The Flashlube Automatic Lubrication Kit is the no fuss way of adding the Flashlube Valve Saver Fluid into your vehicles fuel system, keeping your engine valves protected and the upper cylinder areas cool, clean & lubricated. The Kit comes with everything required including Fitting Instructions for an easy, Do-It-Yourself 20-minute installation. It even includes a FREE 500 ml bottle of Flashlube Valve Saver Fluid.
There are now over 800,000 kits in use world wide, making Flashlube Australia's number one selling Automatic Lubricating Kit and Lead Replacement Additive.
The award winning Flashlube Automatic Lubricator Kit is recognized as a world leader in its field, and is now exported to more than 10 countries globally.
The Flashlube Lubrication Kit is so good it comes with a 10 Year warranty!
Application:
The Flashlube Lubrication Kit can be fitted to any LPG & CNG powered vehicles.
It must be used only with the Flashlube Valve Saver Fluid. Using any other product will contaminate the Kit and void the warranty.
Features:
20 Minute Do It Yourself installation
Suits all Vehicles
Free 500ml Valve Saver Fluid
Ten Year guarantee
Australian Science Award Winner
Over 800,000 kits in use
Benefits:
Low Maintenance
Protects your engine all year round
Easy fitting to any make or model
LPG/CNG Why the Need for Lubrication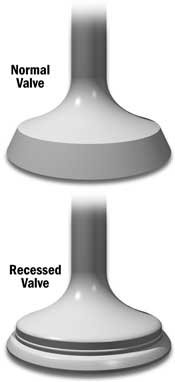 Flashlube Valve Saver Fluid forms a protective lubricant coating; the effect of separating the two metals by a film of lubricant prevents metal-to-metal contact stopping Valve Seat Recession.
Not all engines are designed with LPG/CNG as the fuel.
In engines converted to LPG/CNG , there is potential for higher valve wear due to the combustion properties of the fuel.
LPG/CNG as a fuel places significantly higher exhaust thermal stresses on the valves and valve seats, increasing wear.
Valve Seat Recession is where the valve seat sealing face wears into the cylinder head.
An engine on LPG/CNG runs hotter than designed, under extreme heat normal exhaust and inlet valves can lose their hardness and tensile strength.
The situation worsens as the valve face now hotter than designed and without lubrication preventing the metals touching pinpoint weld themselves together.
As the valves open, the welds break. Valves are designed to rotate consequently pitting the entire surface on both the valve and valve seat.
This leaves the valve face pitted, softened and vulnerable to increased wear. The valve face no longer seals, allowing hotter exhaust gases further heat the surface accelerating wear.
The grinding created by the rotational valves, wear away the seat and guides. Resulting in lost compression and power.